How Much is a Party Bus? Comprehensive Pricing Guide for 2023
Table of Contents:
Introduction
The party doesn't have to start at the venue – it can begin on the road! If you've ever wondered, How much is a party bus?, you're in the right place. With the party bus trend taking the events industry by storm, it's crucial to be informed about the costs involved.
The Party Bus Phenomenon
Party buses have become a staple for a variety of events, from bachelor and bachelorette parties to prom nights and birthdays. Offering the luxury of a limo combined with the space for a dance floor, lights, and sound systems, the party bus guarantees a memorable experience before you even reach your destination.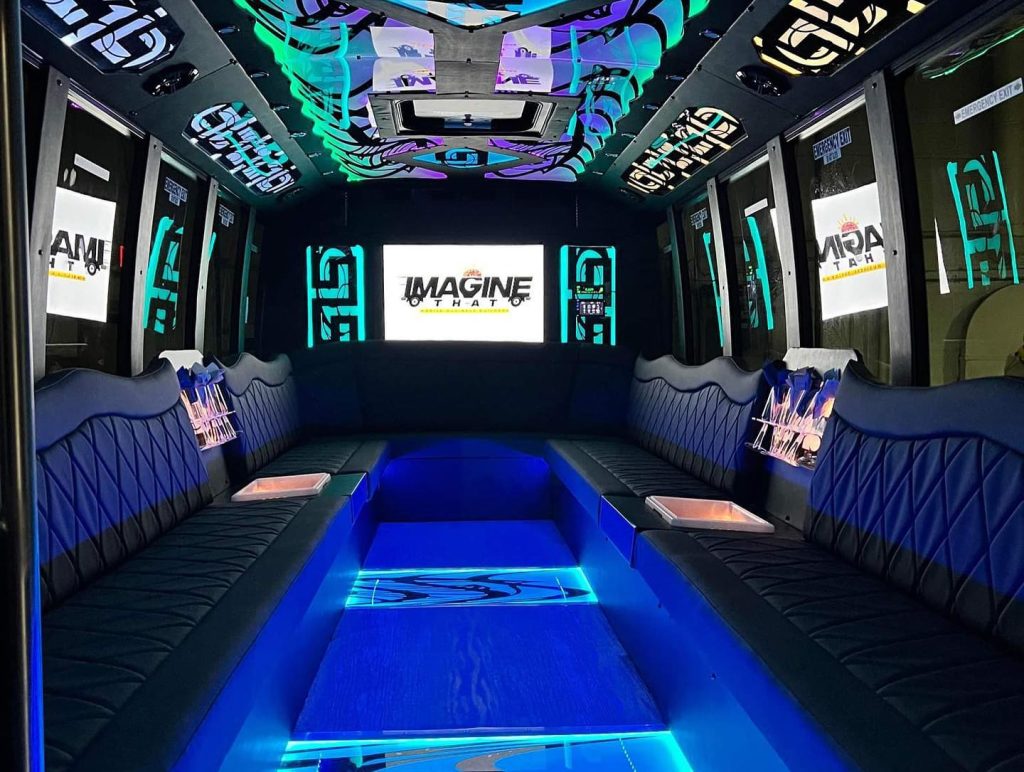 Key Factors Affecting Party Bus Costs
The price you pay for a party bus can vary based on several factors:
Location: How much is a party bus in Toronto? might yield a different answer than inquiring about costs in Ontario.
Bus Type & Size: Larger buses equipped with high-end amenities tend to cost more.
Distance: Longer trips, especially those requiring overnight stays for drivers, can drive up the price.
Duration: How much is a party bus for a day? will be significantly more than a 2-hour rental.
Party Bus Size by Passengers
Party buses come in various sizes, catering to groups ranging from intimate gatherings to large parties:
Small (10-20 passengers): Ideal for close-knit groups or corporate outings.
Medium (20-30 passengers): Great for medium-sized parties, bachelor/bachelorette events.
Large (30-50 passengers): Perfect for big events like weddings or prom nights.
Prices Breaking Down by Durations
2-Hour Rentals: Ideal for short trips or city tours, a 2-hour rental is a cost-effective choice. Mostly you may assume to pay everywhere from $200 to $500 relying at the bus length and amenities.
4-Hour Rentals: A common choice for events, the 4-hour rental gives you flexibility. How a great deal is a party bus for 4 hours? The average costs range from $400 to $1000.
5-Hour Rentals: For those wanting a longer experience, the 5-hour rental is a prime choice. On Research Analysis – How much is a party bus for 5 hours?, assume to pay between $500 to $1250.
Full-Day Rentals: A full day of fun! Now question is, How much price for party bus for whole day? Typically, costs can range from $800 to over $2000, offering a slight discount on the hourly rate for extended use.
Regional Pricing Differences: Toronto vs. Ontario
Location plays a significant role in pricing.
Toronto: Being a bustling city, How much is a party bus in Toronto? regularly has a top rate attached. Prices are generally 10-20% higher than the rest of Ontario due to demand and city-specific fees.
Ontario: Outside of Toronto, How much is a party bus in Ontario? sees a slight dip in pricing, especially in less urbanized areas. However, the difference isn't always significant, especially with luxury providers.
Price vs. Purpose: Costs for Different Event Types
Not all events are priced the same!
Parties: How much is a party bus for any celebration? Typically, parties have standard pricing. The focus here is more on duration than specific event nuances.
Proms & Formal Events: These might come with package deals, including additional hours or amenities.
Tips to Get the Best Party Bus Rates
Book in Advance: Especially during peak seasons, booking early can secure better rates.
Off-Peak Discounts: Consider mid-week rentals or off-season dates for potential discounts.
Package Deals: Some companies offer packages with drinks, entry to clubs, or other perks.
Split the Cost: Dividing the cost among attendees can make it more affordable for everyone.
Check for Hidden Fees: Ensure the price you're quoted includes all fees and gratuities.
Conclusion
Understanding How much is a party bus? is more than just looking at raw numbers; it's about assessing value, experience, and ensuring your event is memorable. Whether in Toronto, elsewhere in Ontario, or beyond, a party bus brings the excitement to your doorstep. So, next time you're planning an event, why wait for the venue to get the party started?